Believe it or not - but I'm not at all into autographs!
Inspite of that, I have got a couple of them by chance. A small selection can be seen here: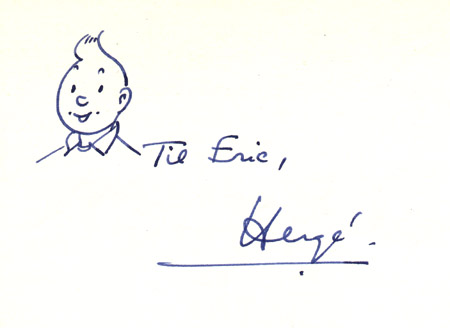 The favourite autograph in my small collection is no doubt this one by the
Belgian father of comix, Hergé (George Remi), which I got 10. September
1971. It included an original drawing of his most famous caracter, Tintin. I
remember that Hergé took his time to make the drawing, which was done
very slowly with much care.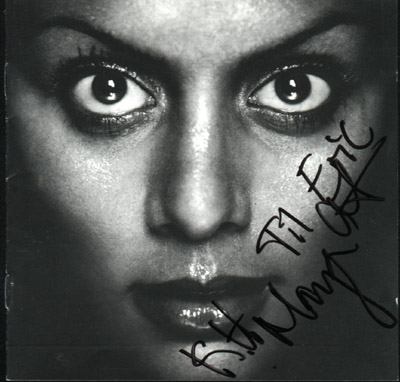 The signed cd-cover of Danish singer, Maya Albana's first and till now
only album, Maya Albana. A most overseen project produced by the
genious couple, Kasper Winding and Thomas Blackman. I got it after
a live performance on 16. October 1999.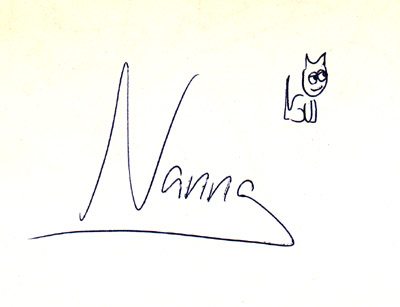 I has always been a great admirer of Danish singer and composer
Nanna Lüders-Jensen. She is almost merely known from her major
1984-hit, Buster. But she has so much more to offer. I consider Nana
to one of the best musicmakers and musicorganizers in Denmark.
The autograph is from 1987. Nanna says in an interview in Politiken (17.11.2002):
"I used to make drawings - especially of cats. One day, when I walked on a country site, a cat
started to follow me. from that day, I felt attached to cats".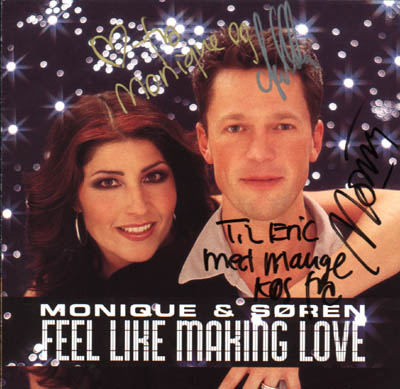 Monique Spartalis is - in my opinion - the best female singer in this
country (sorry Freya!). I wonder why she hasn't yet attained internationally
fame. Her wonderful expressive voice certainly deserves it! I have followed
this extremely talented artist from her very first public performance (her
debut concert in Kridthuset in Copenhagen on 7. May 1992). I have the great
fortune have learned her to know as a very warm hearted and lovable Woman.
I also have a close relationship to her kind father and have met most of her family.
She is an artist with pure star quality, and a really nice personality as well.
I have for a long time planned to make a fan-site for her, and made many
preparations for it - e.g. a 148 pages very detailed Discography
(maybe it shall appear some day?). Above the cd cover of her latest cd, recorded with
Søren Sebber Larsen, who also contributes with his autograph. I got it at the release
party for Feel Like Making Love on 3. May 2001.
I have taken hundreds of pictures of this beauty and a selection of them can be found
under "Monique", when I have got the time to put them on. I have 8 cd covers singed
by Monique, and a few of them can be sen below: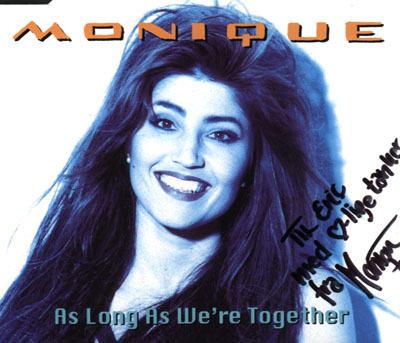 As Long As We're Together single. Signed 28. February 1995.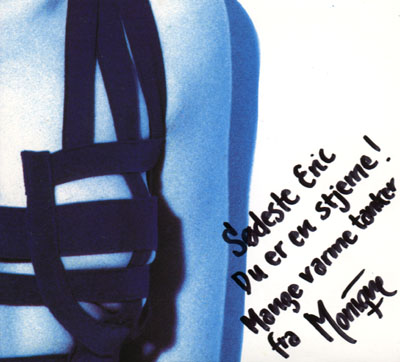 Inner cover of Monique's second album, Guilty. Signed 13. October 1994.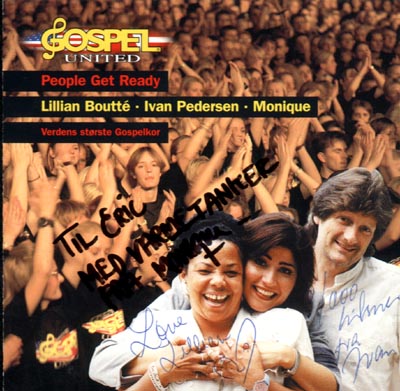 This album cover is signed by Lillian Boutté and Ivan Pedersen as well.
I got it signed at the release party on 3. November 1995 at The Amercan
Embassy in Copenhagen.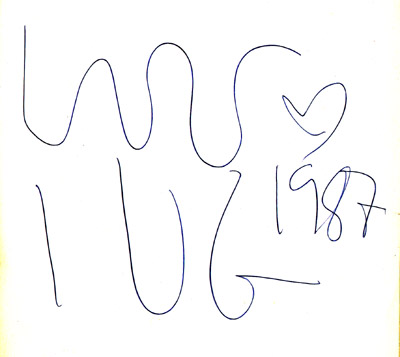 Lars H.U.G.'s characteristic autograph from Tivoli, Copenhagen,
6. September 1987.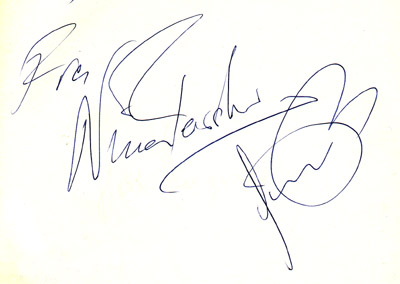 Two of the members of Danish band One Two gave me their autograph
after a performance in Tivoli Gardens in Copenhagen, 23. August 1987.
It is Nina Forsberg and Søren Bentzen (the brother to singer Ann-Louise).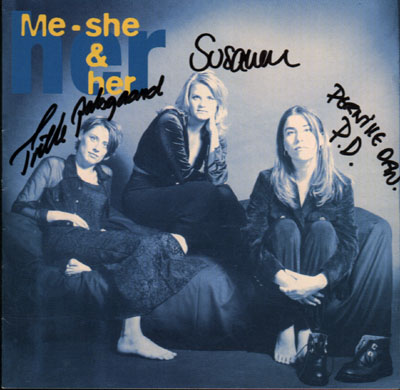 Trille Palsgaard, Susanne Marcussen and Pernille Dan from Danish
trio, Me, She & Her, signed their only album before they split, after a
live concert on 30. December 1995.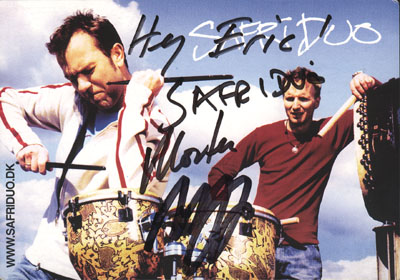 Postcard signed by Morten ond Uffe from Safri Duo, 5. October 2002.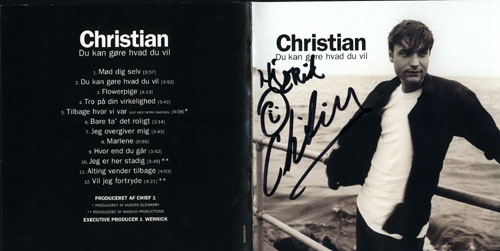 First cd by Christian Brøns, singed on 1. December 2002.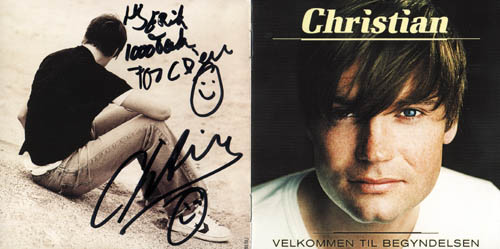 Second cd by Christian Brøns, singed on 1. December 2002.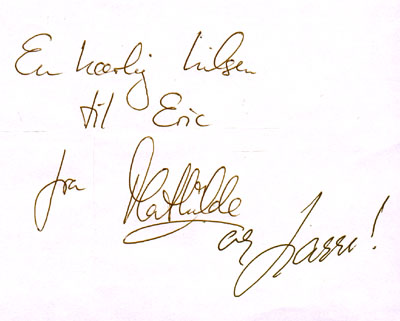 Honestly Lasse & Mathilde is not my kind of music, but I have always
concidered Lasse Helner as a great musician and composer. I still
enjoy the lp, he and Jørn Mader recorded in 1972, Moondust. This autograph
I got when I photographed the duo, Lasse & Mathilde, at a job on 6. May 1993.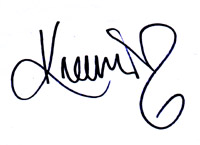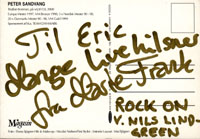 Karen Rosenberg from 3. November 2000 & Marie Frank from 6. November 1999.